This article explores the best eCommerce sites and brands in Singapore, excluding major shopping platforms like Lazada, Shopee, and Amazon, and delves into their winning strategies. Singapore's eCommerce market is well-developed, with advanced infrastructure and a tech-savvy, high-income population, making it an ideal location for sellers looking to enter Southeast Asian markets. We will highlight some of the top eCommerce sites in Singapore today, including those that have expanded beyond state and national borders, as well as those that began in other parts of the world. Let's dive in!
Home & Furnishing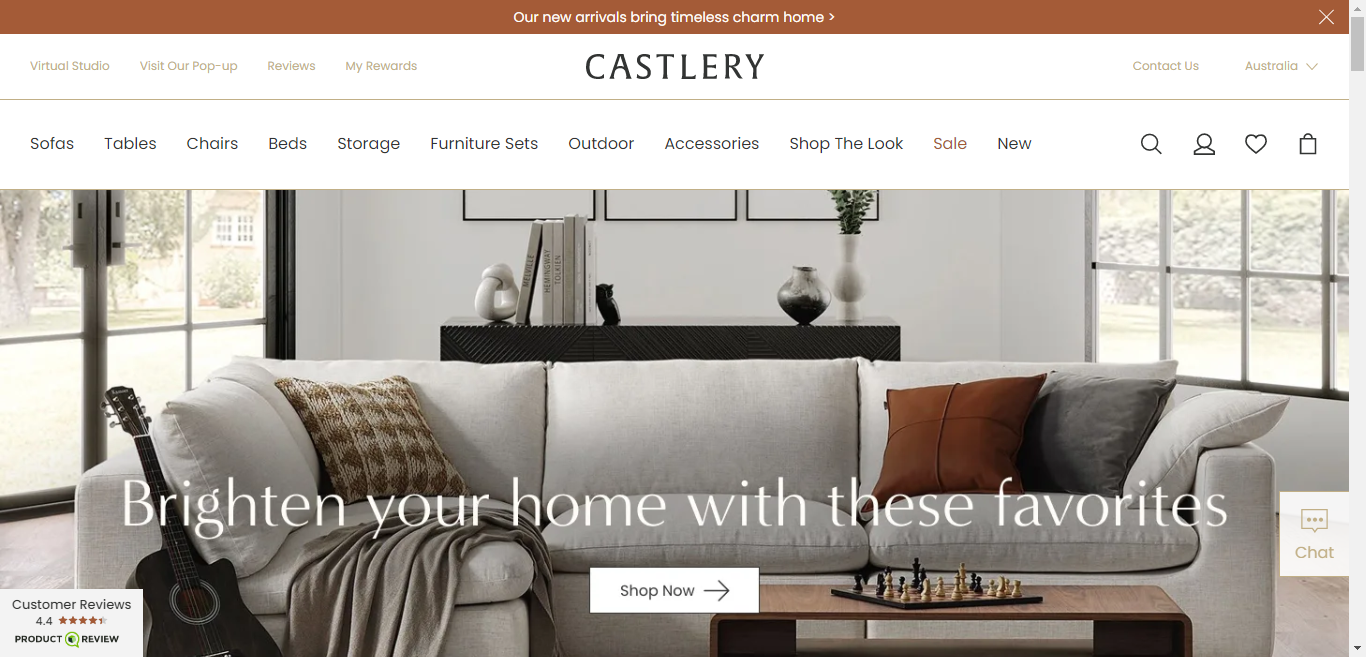 Castlery, a start-up founded in 2013 by a former investment banker, is Singapore's online shop for home furniture. The direct-to-consumer (D2C) brand, which now operates in around 50 metropolitan areas across Singapore, Australia, and the United States, provides quality furniture to homeowners.
Castlery's online store has an estimated 1.38 million monthly visitors in Singapore, making it a prime example of D2C commerce. Unlike conventional B2B or B2C business models, Castlery manages and owns the entire supply chain, including product design, sourcing, manufacturing, and retail. By eliminating middlemen and layers of markups, the direct-to-consumer approach enables the company to connect directly to its end customers and bring quality furniture to the masses at affordable price ranges.
Looking at the e-commerce space as a whole, pursuing a D2C model appears to be the future of retail businesses. Disintermediation not only yields better profit margins but also helps cultivate closer business-to-consumer relationships, enabling brands to deliver their messaging directly to loyal customers.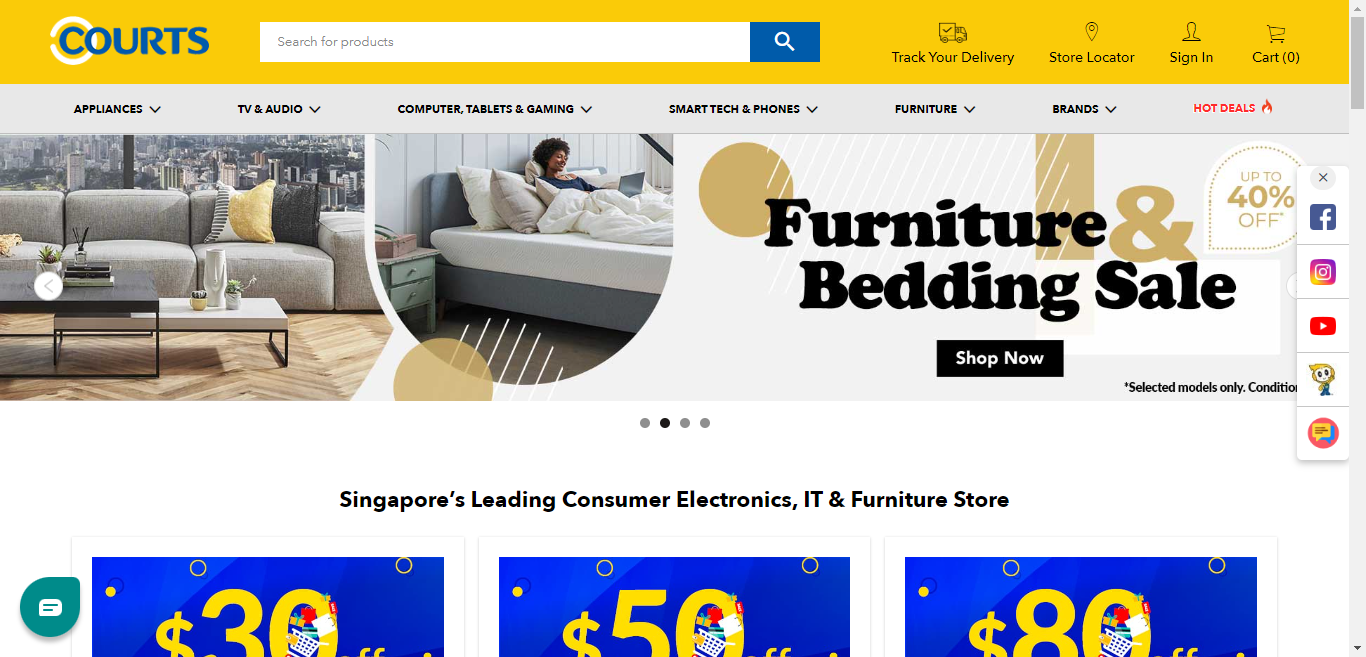 COURTS is a retail company that specializes in furniture and consumer electronics. It originated from the UK and expanded to Singapore in 1974, creating a network of over 10 physical stores nationwide. Since the growth of online shopping, COURTS launched its e-commerce site in 2017, now among the 10 most popular e-commerce sites in Singapore. COURTS' e-commerce site attracts an average of 0.87 million visitors per month.
COURTS is an excellent example of how a long-established brand can undergo digital transformation and improve the shopping experience for its customers. Although shopping used to be primarily done in physical stores, COURTS recognized the importance of going digital as more consumers turn to online shopping. It collaborated with an e-commerce agency to redesign its e-commerce site and incorporated several features to make the shopping experience more convenient and efficient for customers. The click-and-collect feature allows customers to order online and pick up their purchases offline, providing a consistent, omnichannel experience and flexibility in the shopping process.
Clothing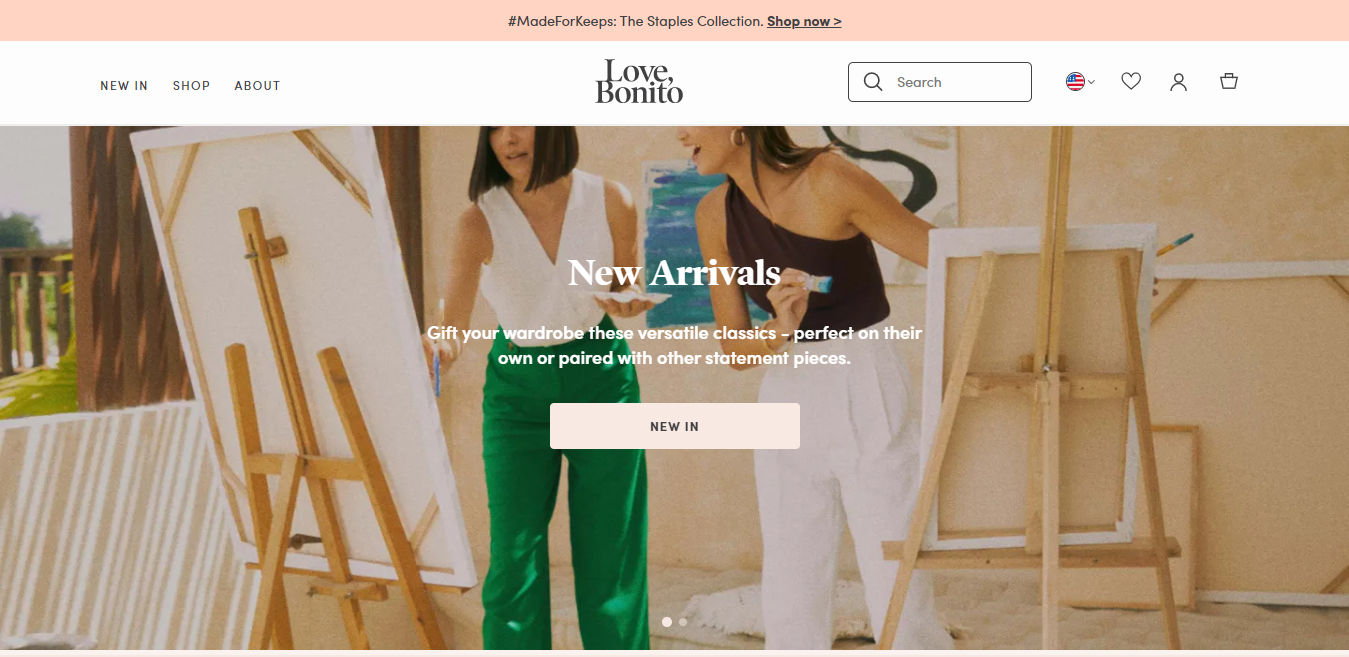 Love, Bonito is a well-known clothing brand that caters to fashion-conscious consumers. The brand was founded in 2010 by Rachel Lim and her friends with a focus on women's wear for Asians. The website of Love, Bonito has an estimated monthly traffic of around 0.68 million visitors.
One of the key factors that sets Love, Bonito apart is its strong sense of mission and advocacy of social causes. For instance, the brand produces garments in "Asian sizing" to cater to the sizes and shapes of Asian consumers, who have often been underserved by global fashion brands.
To take their advocacy of women's rights even further, the brand launched a social impact program called LBCreate. This program has organized various activities such as breast cancer awareness campaigns, funding for female education, and clothing donations to women in poverty. By demonstrating a commitment to social responsibility, Love, Bonito has built a loyal customer base who believe in the brand's ethos and values.
Beauty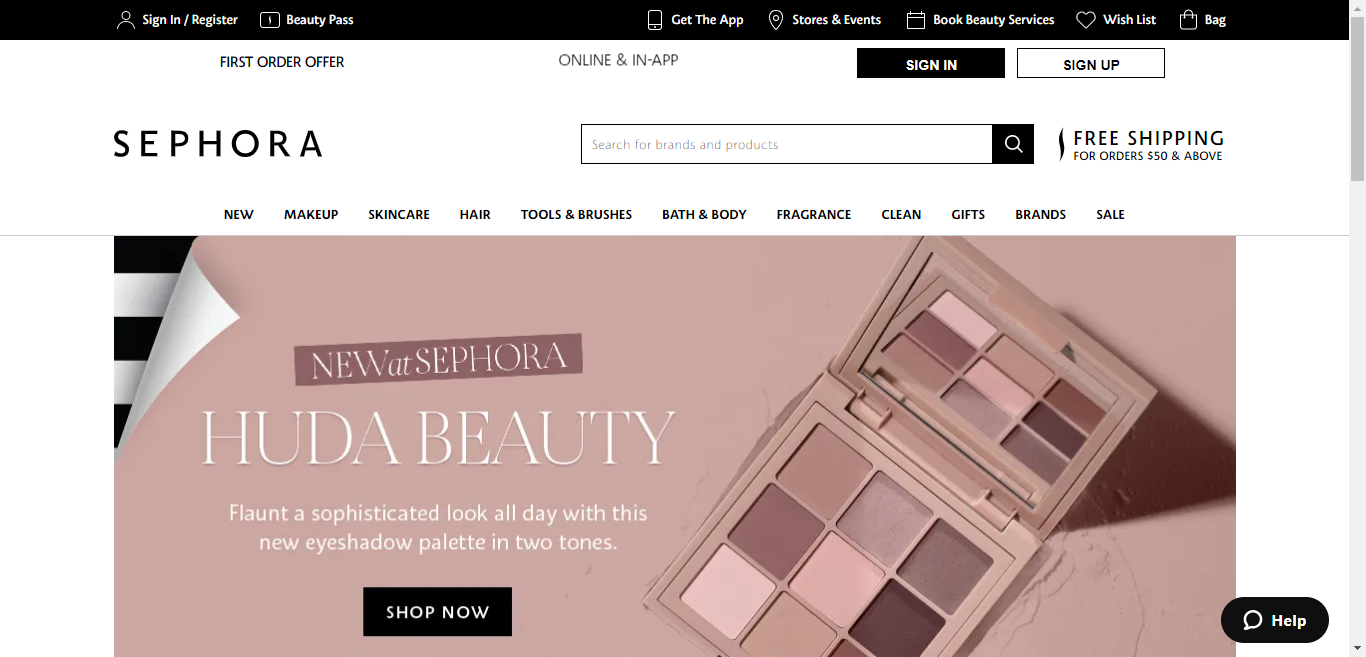 Sephora is a well-known beauty retailer and its e-commerce site is one of the best-designed sites in the industry. The iconic black and white striped theme, minimalist layout, and themed color palette create a strong brand identity that resonates with users. Like other successful e-commerce sites, Sephora has clear navigation links and search functions, but what sets it apart is its personalized recommendations and feature posts/reviews on the homepage.
One key strategy Sephora employs is the use of social proof. By showcasing positive reviews and testimonials from satisfied customers, the site gains credibility and trust from potential customers. User-generated content also plays a significant role in engaging with customers and creating a sense of community. The site also features a chatbot, which is a valuable asset for providing 24/7 customer service and support. The chatbot is an excellent tool for addressing customer queries and ensuring a smooth customer experience.
Overall, Sephora's e-commerce site is a great example of how a brand can leverage strong design, personalized recommendations, social proof, user-generated content, and chatbots to create an exceptional customer experience.
Groceries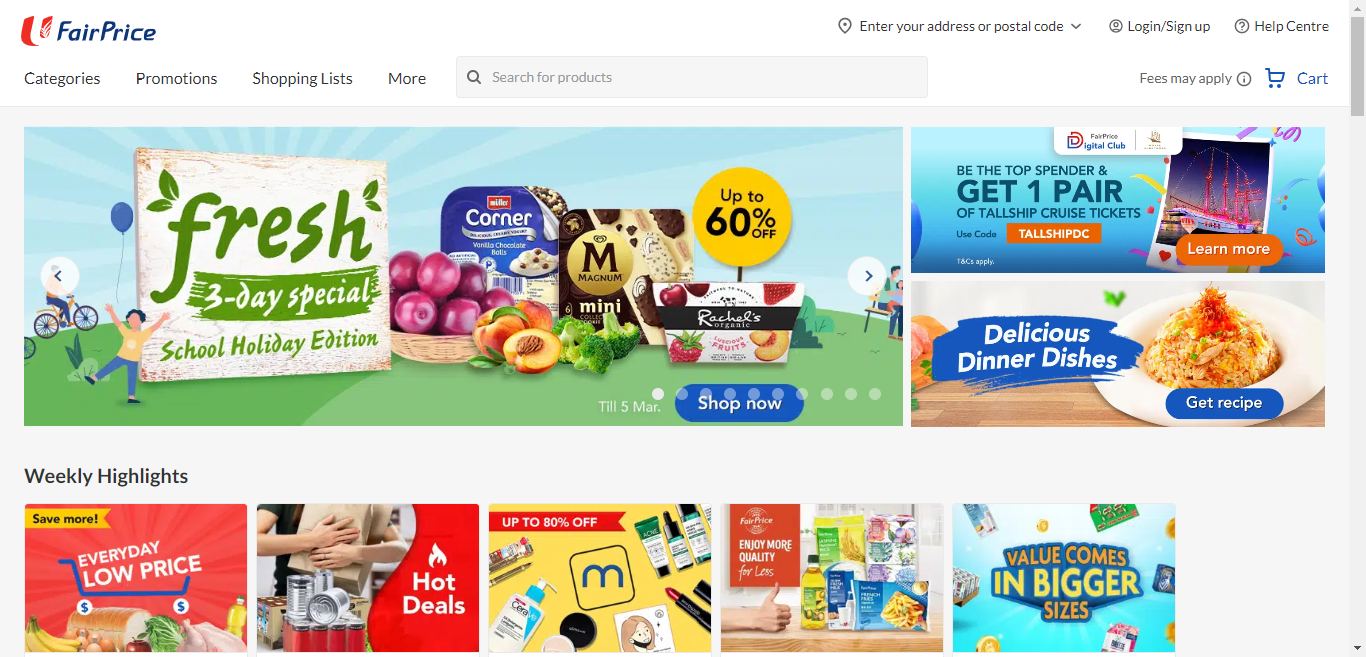 FairPrice On is one of the top eCommerce sites in Singapore for home and groceries. The website attracts around 1 million monthly visitors, offering a vast range of products including baby items, technology, health and beauty, lifestyle and pet products, fresh food, and more. Customers can choose from over 13,000 products and have them delivered at their convenience. The company leverages data analytics to better understand customer behavior and provide personalized promotions based on their preferences. 
With the growing trend towards eCommerce in Singapore, businesses need to create an engaging online experience that enhances their brand and attracts new customers. To succeed in eCommerce, it is essential to select the right platform and implement an effective marketing strategy. If you are planning to launch your own eCommerce website, a comprehensive guide is available to help you choose the best eCommerce strategies for your business.